If you are ready, please click here to schedule your 1-hour consultation!
Senior Portraits with Blue Ridge Expressions
People usually only have three major photo opportunities in their adult lives: Senior Portraits, Wedding Portraits, and their first child "mommy & me" type photos. Of these three major milestones in your life, the Senior Portrait is the only one where you are the focus of the photo session. Shouldn't this photo be as special and unique as you? Don't you deserve a photographer who will take the time to get to know you, learn what you like, and help capture this in your high-quality portraits? You deserve the best. You deserve to have your Senior Portraits photographed by Pat at Blue Ridge Expressions!
I work with all my seniors to develop something that is different, exciting, and fun for you. You are the star of this show. If you have something in mind, we'll make it happen. I will take your ideas and do whatever it takes to sure you have the portraits of your dreams. If you have no idea but want to make something special, we can make it happen!
I have a fully equipped studio setup for formal studio portraits, and we can also move outside here in Western North Carolina for outdoor setting portraits that will easily make your iPhone jealous! Together, we will get you something that you will be proud of, and that you will cherish for years to come.
I've worked with young men and women for years. On Sundays, I serve as a youth Sunday School teacher in Mills River, and I love celebrating the activities of our young people in this community. I am an active member of both the Professional Photographers of America & Professional Photographers of North Carolina and have years of experience in photography. It will be an honor to help you save your memories of this special time in your life!!
I promise you a Senior Portrait experience, not just Senior pictures.
Senior Portraits are an Experience!
I am a full-service Senior Portrait Photographer, not someone who just takes senior pictures for you to keep in your phone. I strive to make this a fun experience for you and your family, and to get incredible portrait images that you will share for years to come.
To achieve this, we will get together at least three separate times to capture your senior portraits.
Step 1: The Consultation Meeting
The consultation meeting is an especially important part of the process. I want to get to know you and what you like: I want to learn about your hobbies, interests, and what makes you unique. What is your favorite thing about school? Let's talk about are your plans after High School. Who are the heroes in your daily life? We'll meet before your session with your parents and talk about what kind of photos you want to create together. The purpose of this brief time together is to get to know you better so when we do work together, we can have fun creating something you like and that you will treasure!
At this meeting, we'll talk about what outfits you want to showcase – both the ones you want and the ones your mom wants! And then we will decide where in these beautiful mountains around Hendersonville and Asheville to take your photos. Or we can plan a studio session if that fits your needs better. We will discuss any questions about the process you may have, and we'll arrange a date and time for your unique session. To lock-in your date, please plan to pay a 50% deposit to hold the date on my calendar.
We will also discuss what type of photo products you want and need. We'll go over your list of family members and talk about what kind of photos you need for those loved ones, and what you want to hang on your walls. I have samples of assorted products that you can see and touch, and we'll go over the prices of each. While I do offer digital options when you purchase prints, I am a print photographer and want to help you create physical artwork that you can see every time you walk into your living room.
This consultation is held in my home office or virtually.
Step 2: The Senior Portrait Session
The most popular Senior Portrait Package involves a 2-hour session, that we will map out as a part of the pre-consultation discussions. I don't clock-watch: if we need a few more minutes to get the shots, then we'll do what it takes to get them shots. If we get everything early, then we'll celebrate a great shot and have more time in our day!
Feel free to bring multiple outfits that will complete the vision that we create at the consultation. Remember, though, that the more time you spend changing clothes results in fewer photos.
Based on our plan, we may visit multiple places around the area to capture the look you want. We'll also plan for the right time of day: the best times to shoot are right after sunrise and right before sunset. However, the look you want may require a midday or a nighttime session.
We'll work from a "session-list" that helps us make sure we get the views and images that we discussed in the pre-consultation meeting. If you are looking for large wall art, then we will shoot photos with that in mind. If you are looking for a special themed album, then we'll make sure we capture the right images that will fit that format.
My goal with the portrait session is to help capture the unique person you are and record it in the camera. At the end of the session, you'll wonder how time went by so fast and you'll head home excited about the session and ready to see the final photographs!
Step 3: The Reveal & Ordering Session
This is the part I have the most fun with. About a week to ten days after our session, we'll get together again and show you your photographs. You will laugh, cry, giggle, and smile. Working from our discussions of what type of photos you were looking for, we'll work together to help you select your favorite images of our time together. From these favorite images, we'll create products that showcase your images the best. I offer albums, wall portraits, social media images, and other prints products. You will want to share these with your friends, family, and even your own children one day!
Hair & Makeup
Of course, everyone wants to look their best for their senior portraits. While some people enjoy – and are exceptionally good at – applying their own makeup and doing their own hair, for those who want a special high-end spa-touch, I offer full hair & makeup services. I work with several local skilled Hair & Makeup Artists (HMUA) who will help you look and feel your absolute best! The HMUA appointment is about 2 hours before our shoot begins. This special touch is just one of the many things that I offer to make your shoot extra special!
If you are interested in Hair & Makeup services, be sure to let me know during our consultation!
Pricing
People sometimes think that professional senior portraits is out of reach for them. You deserve high-quality images at a price that is fairly prices for you and me. I offer a complete line of products, from gift-sized prints to large wall-sized acrylic art, with print prices starting around $40. Yes, more complex products and images will cost more than simple prints.
Custom commissioned portraits are an investment. Most clients I work with plan to purchase a minimum of $500 worth of print & digital products in addition to the session fees.
We will go over the pricing at our pre-consultation meeting so that you will know the pricing before we start working together. No surprises. I want this to be stress-free for you, and for you to know what you are getting before the photo session begins. Of course, you may have trouble limiting your choices based on the incredible images we will get together!
The session fee and Hair & Makeup fees cover our time together with the camera and the work involved to show you the images at your reveal, where you can order your prints and print products.
North Carolina sales tax is applied to all prints and services as required by law.
Graduation Cap & Gown Portrait Mini Sessions are Included!
I offer a highly personalized senior portrait service, and as a part of this service, I include studio graduation mini sessions each spring. In early May, after gowns and cords are distributed by the schools, I will invite you back to my studio to take formal graduation cap & gown portraits.
A digital social media version of your favorite shot is included, delivered to you within 24 hours of your session. You will be able to select your favorite image immediately after the photography session and you can choose additional items to purchase if you like at regular prices. This free session is a gift to you for my Seniors and is worth over $100!
You can also take this opportunity to order graduation announcements that include photos from your main Senior Portrait Session and your Cap & Gown session.
Are you looking for something more than a mini session? Longer format graduation style photo sessions can also be arranged! If you have that special place where you want to get your cap & gown photo made, we can make it happen for a small session fee.
Featured Products
Social Media & Digital Images
As a part of your session, I will provide you 2 complimentary social media images so you can share with your friends and family online. They will include my signature, and I ask that you not print these images. You can also purchase additional digital images, with and without printing rights.
Even though I offer digital images, remember that I have deep relationships with professional labs. You will find that I can create the best prints and products at a competitive rate. The quality that I can provide you with is much higher than a general big-box store or print at home solution. You've trusted me to create your senior portraits, please trust me to create your printed images as well.
Albums
One of the most special things that I offer to my seniors is a custom created photo album, capturing many of the images we took together. During our reveal session we will identify your favorite images, then I will work with your favorite images to create a 10–15-page portrait album of our session together. This is a wonderful way to hold onto your images for years to come – imagine curling up with your children showing them what you looked like when you were a senior. The Album will tell your story.
Senior Montages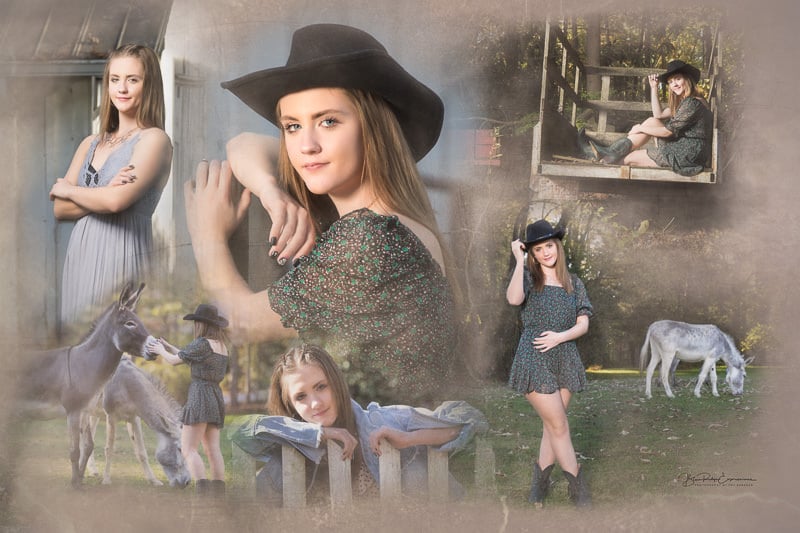 One of my favorite things is to create a montage/collage of the photos taken with your senior portraits. These large prints show your interests in fine art. Do you play sports? We can build photos from your games in with your sports-themed photos. Or perhaps you sing in the choir? Let's build an image of you singing a solo combined with other concert photos along with some staged images to create something that is uniquely yours!
Let me know if you are interested in something like this and we'll work with these in mind. These are specially created custom products, and you will love hanging these large prints on your wall as a reminder of how much fun you have doing what you love!
Senior Portraits Survey
Are you interested in learning more about Senior Portraits? Click here to schedule your consultation date and let me know a little more about you. Also, feel free to call me here in the Mills River, NC area at 828-513-0209. I photograph seniors in Asheville, Hendersonville, and the surrounding areas. You can follow me on Twitter (@BlueRidgePat), Instagram (@BlueRidge.Pat), and Facebook (@BlueRidgePat).
I absolutely love taking senior portraits, and I look forward to learning more about you. Let's get together and capture Senior Portraits of you that you love! Please reach out to me if you have any questions: